IPG Announces New Leadership
INDIANAPOLIS—Indiana Precision Grinding (IPG) is proud to announce the promotion of Vice President Matt Cox to the role of CEO, effective March 1.
In taking the helm, Matt Cox replaces Dave Cox, who remains with IPG as he fills the roles of Chairman of the Board and Senior Estimator. He will also be around the shop to help mentor Matt as IPG reorganizes its leadership.
When asked about what the future holds for IPG, Matt says, "Our aspiration is to become an innovative, world-class leader in the aerospace industry. Our focus to not just to become better, but to excel in everything we do. Ultimately, we want to be an intentional organization which positively impacts our people, our community, and our industry."
Matt outlines a series of goals he has for the company. These include:
Continuing to focus on delighting customers with high standards

Obtain NADCAP certification for chemical processing

Implement a proactive stance when executing customer orders

Optimize sales processes and Quality Management System

Relocate to a more modern facility to better meet customer needs

Invest in IPG's technology, people, and community.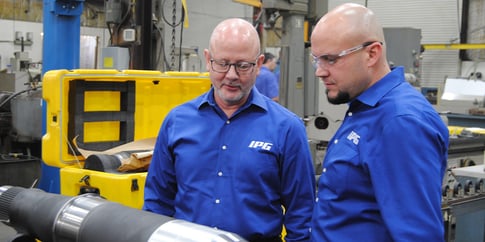 IPG was founded by the Cox family in 1975. A lot has changed since then, but our commitment to quality and superlative customer service is unwavering.
In order to reach these high aspirations, Matt says, "We have already implemented our Customer Success process, now we look to continually improve it. Our approach is to be focused on our goals by creating strategic plans with measurable action items. This places us in a much better place to execute them. We also have an exceptional management team that supports our entire company while striving to focus on action."
When asked for his thoughts, Dave said, "Matt is a passionate and dedicated servant leader, who is committed to serving our customer and employees with intention. Matt also has very high standards and self-accountability, which also reflect in his leadership style. Matt is not only my nephew, he's one of my closest friends, so it's been greatly satisfying for me when he developed an interest in the heritage of this business, became a meaningful contributor, and then a manager."
Indiana Precision Grinding are specialists in aerospace grinding. As an AS9100-certified aerospace manufacturer, IPG's offerings include thermal spray grinding and superfinishing as well as isotropic superfinishing. Additionally, IPG has their sights on expanding their nital etch and magnetic particle inspection services.