IPG Employee Spotlight: Jeff Paton
Jeff Paton is one of IPG's veteran precision machinists. An Indianapolis native with nearly four decades of experience (three of which at IPG), it's easy to understand why Jeff is a valued member of our team. In fact, when Jeff started applying his trade with us, current Vice President Matt Cox was only 16 years old.
Click Here for our The State of Aerospace Manufacturing Infographic
When asked about Jeff, Matt said "I have always viewed Jeff as one of our most valuable team members. His experience, willingness to pursue quality, and friendly conversations makes Jeff a pleasure to have on the IPG Team. IPG is a great company because of men like Jeff Paton."
Plant Manager Joe Lane said, "Jeff is one of our most experienced well rounded precision machinist. Meaning, Jeff can operate various styles of precision grinding machines with ease. He has always been one of our dedicated team members when it comes to demonstrating his work ethic."
We sat down with Jeff to ask for some insights about himself and his work with us at IPG.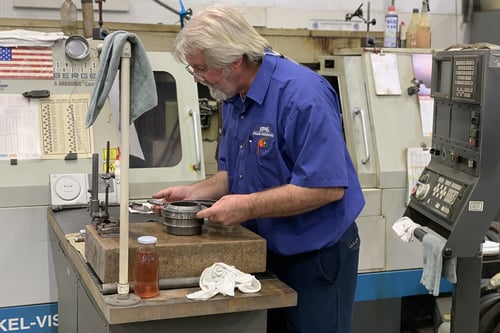 How did you get your start in the metalworking/grinding industry?
I've been doing this for about 40 years now. Twenty-six of them at IPG. I took mechanical drawing & machine shop in high school and my father and uncle were both tool & die makers.
What are some notable moments in your career?
Getting the opportunity to learn new CNC machinery, do the finish work on something that is going to fly, even in space, aka, space shuttle etc.
What makes IPG a special place to work?
For me, it has been a reliable, close knit atmosphere, to learn new techniques of machining all sorts of different materials and configurations .
What does the future hold for IPG and the grinding world?
I think gaining more experience grinding the different spray coatings are a plus. With Nondestructive Testing, Nital etching, and gaining certifications it will put IPG in a better place in the market.
What do you like to do in your free time?
Anything outdoors, grandchildren, and it seems to be "Mr. Fix it", DIY projects, golf gardening, and travel. I also enjoy going to Florida and I'm a big racing fan.