Aerospace Manufacturing Trends to Watch for in 2021 and Beyond...
The mark of a new decade, 2020 was destined to be a year to remember. The new year began with a sense of optimism as the aerospace industry was continuing to thrive in terms of economic growth. Unfortunately, by March these successes went down the drain. In a matter of days, the market experienced an unprecedented decline in demand and the aerospace industry came to a halt.
2020 has definitely been a year to remember but for the wrong reasons and as it comes to a close, we are looking forward to 2021 with a sense of hope and optimism for the new year. As the new year approaches and we continue to pick up the broken pieces, here are four aerospace manufacturing trends to look for in 2021 and beyond.
Uncertainty Continues
Since the coronavirus pandemic first started, each day seemed to bring new challenges and the uncertainty of what is to come continues. While there have been talks of a vaccine, COVID-19 is currently showing no signs of slowing down which in turn impacts when air travel will increase. Additionally, the release of stimulus packages and the effect of government spending on the industry both now and in the future is an unknown. Without customers planning to travel, this is adding an additional challenge for manufacturers and their forecasts. The aerospace manufacturers should continue to accomplish tasks until the market stabilizes and the future becomes a bit more certain.
Further Developing Aerospace Tech
With aerospace, the modernization process will not happen overnight as it is a relatively slow process. However, innovation has been happening in a variety of ways as companies continue to replace their outdated software.
One of the new developments is the implementation of a more-electric aircraft (MEA). One of the largest expenses that is associated with aerospace operations is the cost of fuel so in order to combat this cost, there has been a development of a more fuel-efficient option, this is when the more-electric aircraft was born. Right now, it is not an all-electric aircraft (AEA), which is more of a long term goal due to the complexity to make it happen. This approach has allowed many aerospace manufacturing firms to take a more incremental approach and integrate their equipment with newer components.
Another trend within the development of aerospace tech is the increasing importance of autonomous flight systems. Autonomy has been a growing trend in various industries and aerospace is no exception. The overarching goal is to increase the number of autonomous flights with the possibility to launch fully human-free flights in the future. This will not happen immediately, however, the investments and innovations made in the next few years will be geared toward this goal.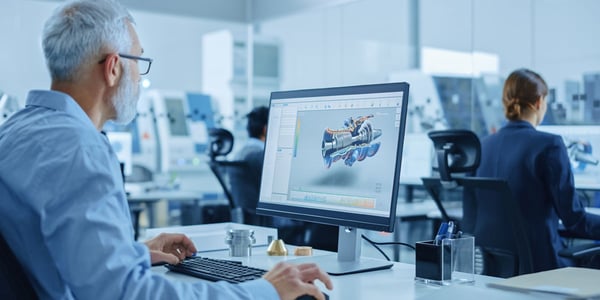 Manufactures need to continue to train their workforce on new technologies.
Workforce Upskilling
According to the International Air Transport Association (IATA), an estimated 25 million jobs in the aerospace industry are at risk due to the various crises 2020 brought. Many companies are shrinking their workforce which means now more than ever, the workforce needs to be equipped with the adequate skills to remain efficient. Manufacturers are launching upskilling programs in order to keep up with the technological advances as the world continues to go digital. Core employees should learn digital technologies such as data modeling, design thinking and automation which will allow both the employees and the company to remain agile and relevant during these challenging times.
Increased Focus on Sustainability
Long before this crisis emerged, there was growing pressure on the aerospace industry to become more sustainable and eco-conscious, particularly with regard to carbon dioxide emissions. While some manufacturers have begun to launch programs to reduce emissions and explore electric options, this trend will only intensify after the crisis. With many people skeptical about flying due to the pandemic, the sensitivity for other issues such as sustainability heightens. While there are aid programs in place for reducing carbon dioxide emissions, it still takes billions of dollars to develop these projects in full which can be a burden to an industry already in crisis. However, by strengthening the focus on sustainability now, the aerospace industry can emerge stronger and more competitive than before.
The coronavirus has had a devastating impact on the aerospace industry in numerous ways but it can also be the reason that the industry emerges stronger than before. The organizations that choose to use this time to strengthen their team will be the victors in the coming years. As 2021 approaches and recovery is on the horizon, these trends and how you choose to overcome them will not only be relevant now but for years to come.